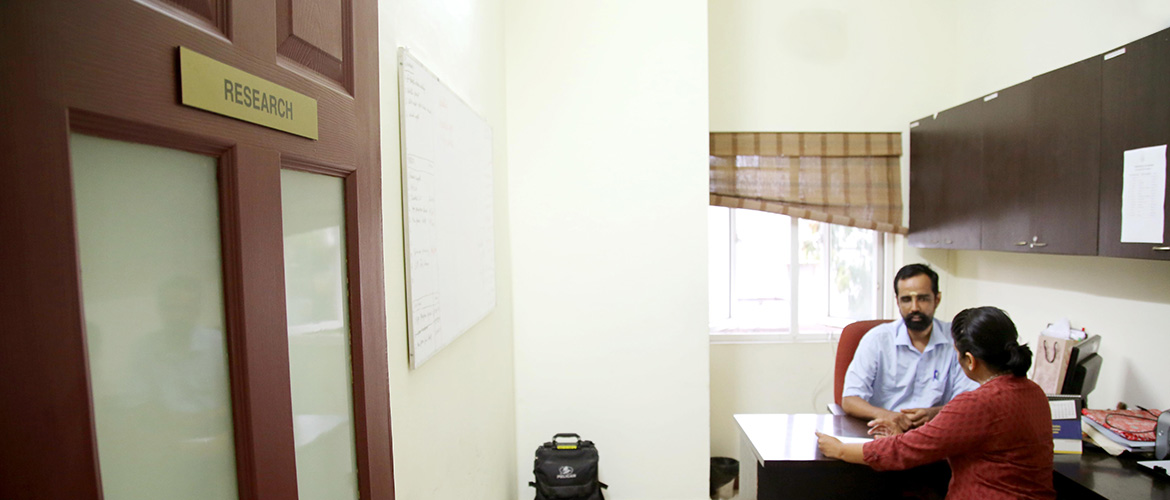 KYM has an active and dynamic research wing that is constantly engaged in researching the various theoretical and applied aspects of yoga. The research department's mission is to bring to light the lesser-known aspects of yoga and to demonstrate the inherent scientific rationale that is evinced in the individualised approach to Yoga therapy.
Since its inception in 1976, the KYM has accumulated several thousands of care seekers' records that prove to be a veritable treasure-trove of information on the role and significance of yoga interventions in the therapeutic context.
The raison-d'etre of KYM's research wing is to systematically organise and analyse this data, and to and make the emerging information available to the larger yoga community. Apart from providing therapy-related reports, the research department also launches specific studies and research projects on a periodic basis, with a view to inquire into the role of yoga practices in the management or treatment of various psycho-physiological ailments. The outcome of these studies are published as papers in national and international journals, apart from being presented in workshops, seminars and other knowledge-sharing forums.
The KYM research department is also actively involved in literary research, primarily focusing on comparative studies of ancient classical yoga texts and the revival of previously unpublished manuscripts available in various government archives, university libraries and other such repositories. The department is also committed to periodically conducting seminars and workshops on yoga therapy and yoga literature with a view to create more awareness of and interest in yoga as a viable system of complementary therapy and as a living philosophical tradition. KYM is recognized as a Scientific and Industrial Research Organization (SIRO) by Department of Scientific and International Research (DSIR), Government of India.
Yoga-vaiśāradī is a web application that is developed with an objective to facilitate easy access to the classical commentaries of Yogasūtras of Sage Patañjali. Vaiśāradī means an expert. This web based tool is designed to facilitate expertise and scholarship in the field of Yoga Philosophy.​ The web application can be accessed at www.kymyogavaisharadi.org
APPLIED RESEARCH PAPERS
Major Projects Completed
APPLIED RESEARCH
Therapeutic effect of Yoga on Persons with epileptic seizures – 2003-06 – funded by CCRYN.
Lifestyle Survey of Urban youth – An analysis of healthy behaviour in relation to yoga practice – 2013-14 – Funded by ICSSR
Impact of individualized yoga therapy on perceived quality of life performance on cognitive tasks and depression among type II diabetic patients 2015-16 – internally funded
Personal maturity indicators: An assessment tool based on selected concepts from the bhagavad-gītā – 2016-17, internally funded
Manobalam – An internal needs-based evaluative study of effect of 'Individualised Yoga Therapy for Psychological Wellbeing' – 2016-17, Internally funded
LITERARY RESEARCH
"Patañjali-caritam", a Sanskrit prose adaptation (with English Translation) of a Sanskrit poetic work (by Rämabhadra Dīkṣita, 17th century) – 2011-12.
Critical Edition of Two Unpublished Manuscripts on Yoga – aṣṭāṅgayoganirūpaṇam and nādānusandhāna-pañcakam – 2012-13
Translation of Vyasa's commentary to Yogasutras into Tamil – 2013-15
Preparation of self learning course material for Samskrit Through Yoga, ONGC-CSR funding, Samskrit Promotion Foundation, New Delhi – 2015 – 2016.
Yogavaisharadi – Phase 1 -A Searchable Web-repository on Classical commentaries of Yogasutras 2017-18 – www.kymyogavaisharadi.org
Ongoing Projects
APPLIED RESEARCH
Impact of yoga practice on the personality, cognitive and behavioral performance of rural school-going children – internally funded – incepted in 2017
Personal Maturity Indicators: evaluation of the PMI-R tool – internally funded – incepted in 2018
The impact of yoga intervention on physical and mental health of adults with type 2 diabetes – in collaboration with Madras Diabetes Research Foundation, funded by AYUSH
Study of to profile Triguna and Tridosha among diabetic conditions – internally funded – incepted in 2017
LITERARY RESEARCH
Yogavaisharadi – Phase 2 – A Searchable Web-repository on Classical commentaries of Yogasutras 2018 – 2020
Seminars and Workshops Organised
APPLIED RESEARCH
Dialter – The Mind Way, March 5, 2011, on management of Diabetes
Yoga and Emotional Health, November 23, 2013
Unconditional Parenting: A workshop on parenting in the cyber-age, with inputs from yogic psychology, November 5, 2017
LITERARY RESEARCH
One Day regional seminar on Yogasudhākara – A commentary on yogasūtras by Sadāśiva Brahmendra, at Krishnamacharya Yoga Mandiram, 14th Nov 2010.
Organised a One day regional Seminar on Yoga and Samskritam jointly organized by Krishnamcharya Yoga Mandiram and Samskrita Bharati, Tamilnadu on 29th August 2013.
One Day National Seminar on "Dimensions of Yoga and Its Dynamics" jointly organized with MOP Vaishnav college for women on July, 4, 2014 at MOP Vaishnav college for women, Chennai.
One Day National Seminar on "Innovative Methods in Imparting Yoga", 29th June 2016, Under the auspices of Department of AYUSH, Govt of India.
Two Day international workshop on haṭhayogapradīpikā – A Textual immersion with foucs on the Asanas 4th and 5th of August 2017.
Two Day international workshop on haṭhayogapradīpikā – A Textual immersion with foucs on the Pranayama 16th and 17th of February 2019.
Seminar Proceedings Published
Yoga and Sanskrit a compilation of Research Papers ISBN: 978-81-87847-34-2, Feb 2014
Dimensions of Yoga a compilation of Research papers October 2014, ISBN:978-81-87847-38-0.
Innovative Ideas in Imparting Yoga, A collection of Seminar Papers June 2017, ISBN: 978-81-87847-49-06