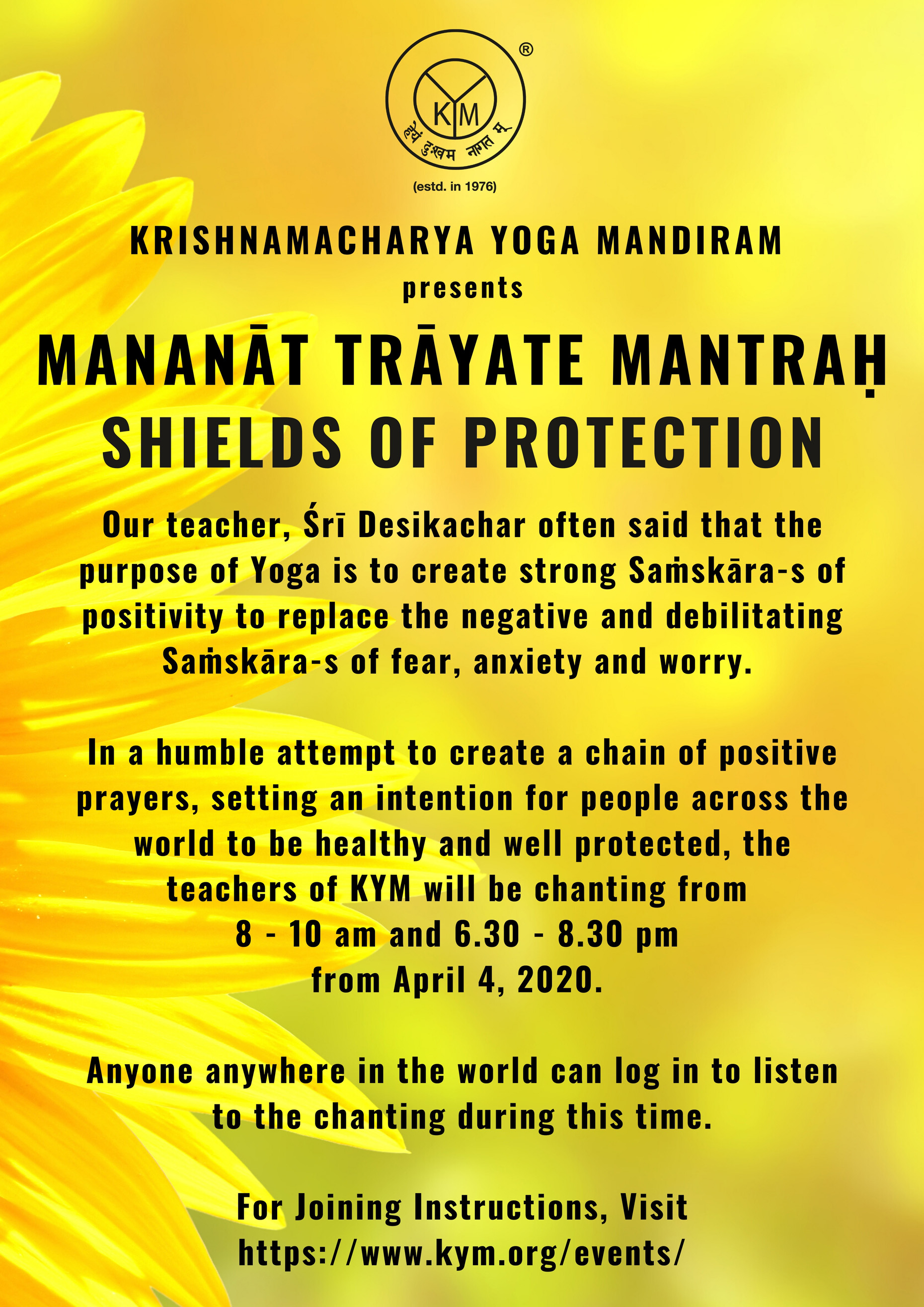 Mananāt Trāyate Mantraḥ | Shields of Protection
Our teacher, Śrī Desikachar often said that the purpose of Yoga is to create strong Saṁskāra-s of positivity to replace the negative and debilitating Saṁskāra-s of fear, anxiety and worry. In a humble attempt to create a chain of positive prayers, setting an intention for people across the world to be healthy and well protected, the teachers of KYM will be chanting continuously from 8 am to 10 am and 6.30 pm to 8.30 pm IST from April 4, 2020.
Anyone anywhere in the world can log in and chant along or listen to the chanting during this time. Do pass this on to your friends, family, students, colleagues and anyone who would be interested in joining in. While there are thousands of medical professionals, police officers, nurses, daily essentials suppliers and retailers and others battling on the front lines, the least we can do is join our hands and hearts in praying for them and sending them and those who are ill our prayers and wishes for health, healing and safety.
Follow this Zoom link to listen to the live chants |  https://zoom.us/j/967928771
If you are using a computer or laptop. If you are using a Mobile Application to access the Zoom webinar, the joining ID is 967-928-771.
Note:
As we are sure you understand, all our teachers are doing their respective sessions/lectures from their homes. Kindly bear with us in case of poor audio/video streaming quality.
We can accommodate only 100 participants through our live webinar model. Chanting slots change every thirty minutes or one hour. Participants are requested to try again in 30 min or 1 hour if they are unable to attend the live session.
  1. Opening Chants
  2. Ganapathi Prarthna
  3. Narayananopanisad
  4. Gayatri Mantra
  5. Mrtunjaya Mahamantra
  6. Durga Suktam
  7. Viraja Mantra
  8. Lakshmi Kavacam
  9. Sudarshana Astakam
  10. Pancayutha Stotram
  11. Aditya hrudayam
  12. Prithvi Shanta
  13. Ayurmantra
  14. Bhadragkarnebhih
  15. Guruvastakam-1
  16. Guruvastakam-2
  17. Guruvastakam-3
  18. Laghunyasa-1
  19. Laghunyasa-2
  20. Osadhi-1
  21. Osadhi-2
  22. Shamno mitra
  23. Shivapancaksari
  24. Suryanamaskar
  25. Closing Prayers