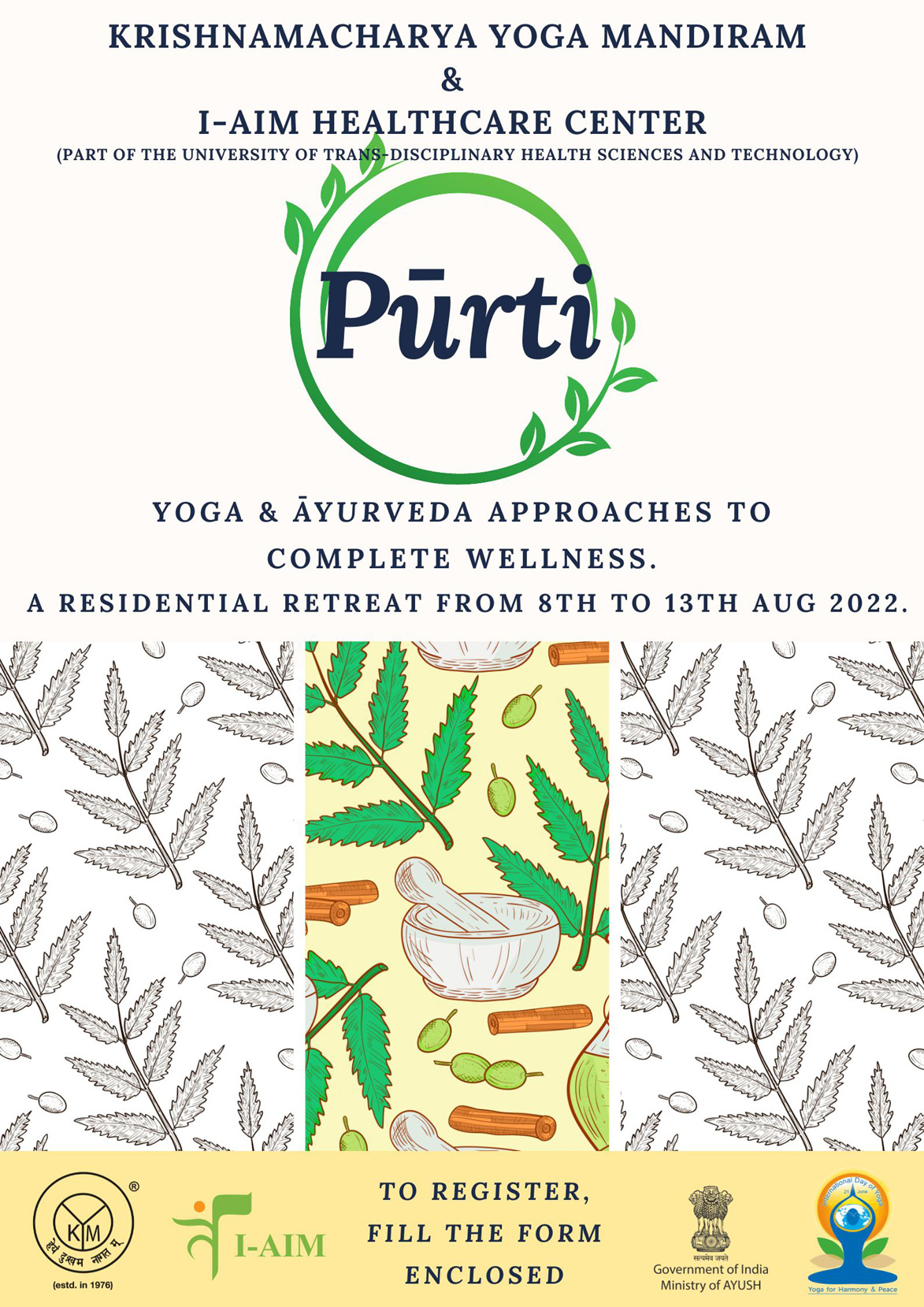 Dates | August 8 to 13, 2022 (Participants to reach I-AIM by 7th August, 2022)
Programme Fee | Participants to Register in the link below. The KYM & I-AIM team will get in touch with the registered participants.
Both Āyurveda and Yoga adopt a holistic perspective to health and wellness, addressing health from not just the physical, physiological and psychological dimensions, but also from spiritual, social and environmental view points. Āhāra(food choices), Vihāra(lifestyle), Ācāra (behaviour) and Vicāra (contemplation and reflection) are important anchors, to be well understood. Yet, there is no one size fits all approach, for how these anchors are integrated depends on individual uniqueness of constitution, including Prakṛti and Svabhāva.
When aligned, life processes resonate in harmony. When misaligned, there is disease and dissonance.
This retreat will bring together an experience of the philosophy, practice and application of Yoga and the principles and practices for preventive and promotive health from Āyurveda.
All participants will go through a process of consultation with the physicians at I-AIM, and will have a daily routine of essential Pañcakarma interventions. Apart from this, there will be a daily practice of Āsana and Prāṇāyāma, chanting and meditation, and a lecture on some core principles of Yoga philosophy. There will also be a daily lecture on Āyurvedic principles of health and nutrition.
A guided tour of the medicinal garden on the premises and an introduction to the research work being done at the Trans Disciplinary University.
Participants may plan to reach at anytime on 7th August and leave on 13th evening. Extended stay (before or after) may be organised with I-AIM if desired.