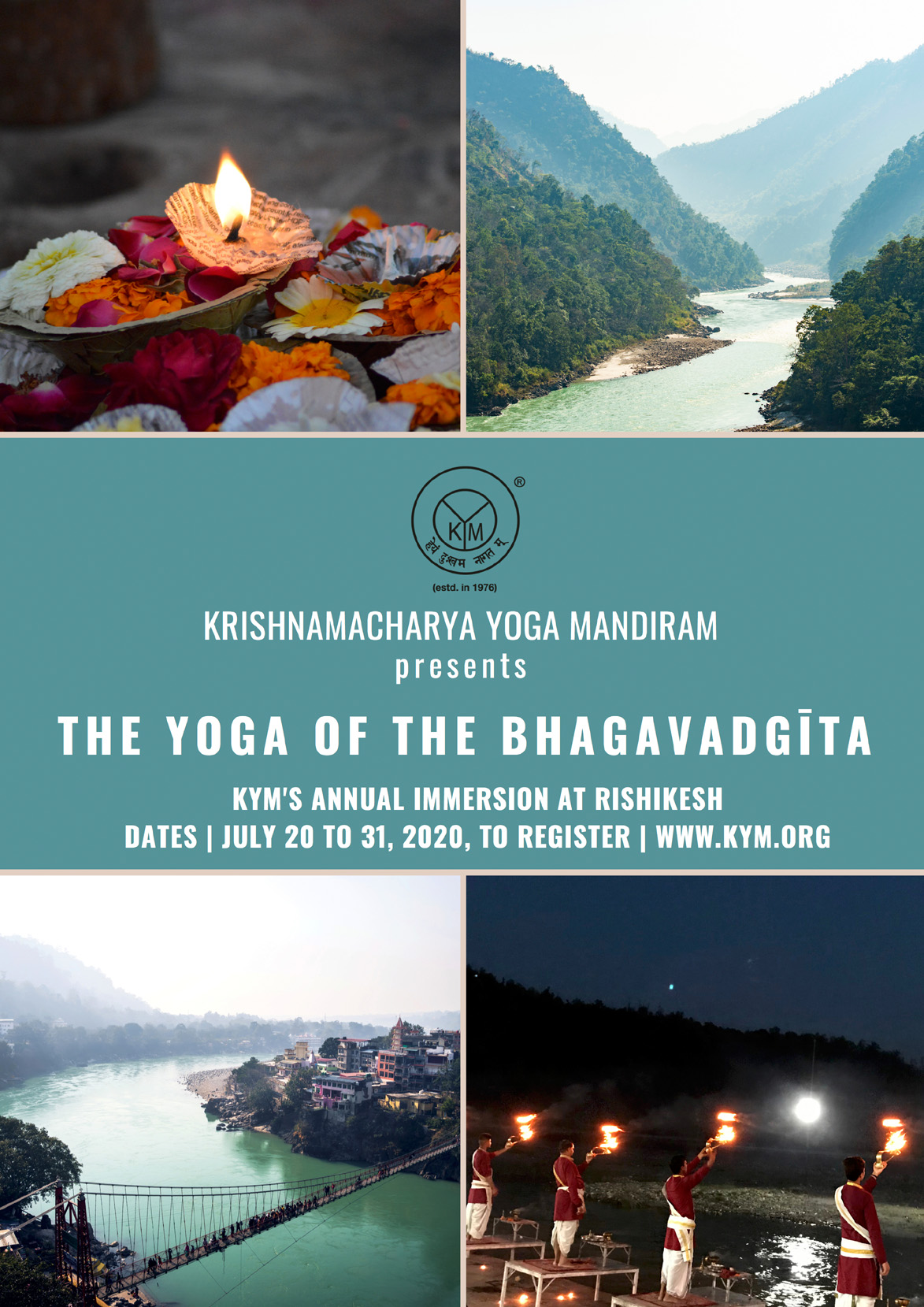 Dates: 20th July to 31st July, 2020
Venue: Swami Dayananda Ashram, Rishikesh
KYM brings to you a great opportunity to immerse yourself in the teachings of the Bhagavadgīta, and also bathe in the pristine waters of the Ganga at Rishikesh, which is acclaimed as Devabhūmi.
Led by our senior mentor, trustee and Chairperson of the Board of Studies, Śrī S Sridharan, "The Yoga of the Bhagavadgīta," focusing on Chapters 7 to 12 offers an intensive study of the Bhakti Yoga in the light of Patañjali-s Yogasūtra.
Philosophy lectures will be interwoven with Āsana, Prāṇāyāma and Dhyāna practices and also chanting of the Bhagavadgīta.
Accommodation will be in Dayananda Ashram at Rishikesh on twin sharing basis. Simple vegetarian food will be served. The participants should reach the Ashram by July 19th. The inauguration of the session will be on the 19th by 17:00 Hrs. The programme commences on 20thand ends on the 31st evening. Participants can make their return travel arrangements on August 1st, 2020 morning.
Schedule for the programme
Faculty | Śrī S Sridharan, Śrīmatī Shobana Srinivasan and Śrī Ramachandra Bethmangalkar.
6.30 – 7.20 AM
Āsana Practice
7:30 AM
Breakfast
9 – 9.50 AM
Yoga in Bhagavadgīta | Session – 1
10 – 10.50 AM
Yoga in Bhagavadgīta | Session – 2
11.10 AM to 12 Noon
Chanting
12 Noon
Lunch
3 – 3.50 PM
Yoga in Bhagavadgīta | Session – 3
4.10 – 6 PM
Prāṇāyāma and Dhyāna