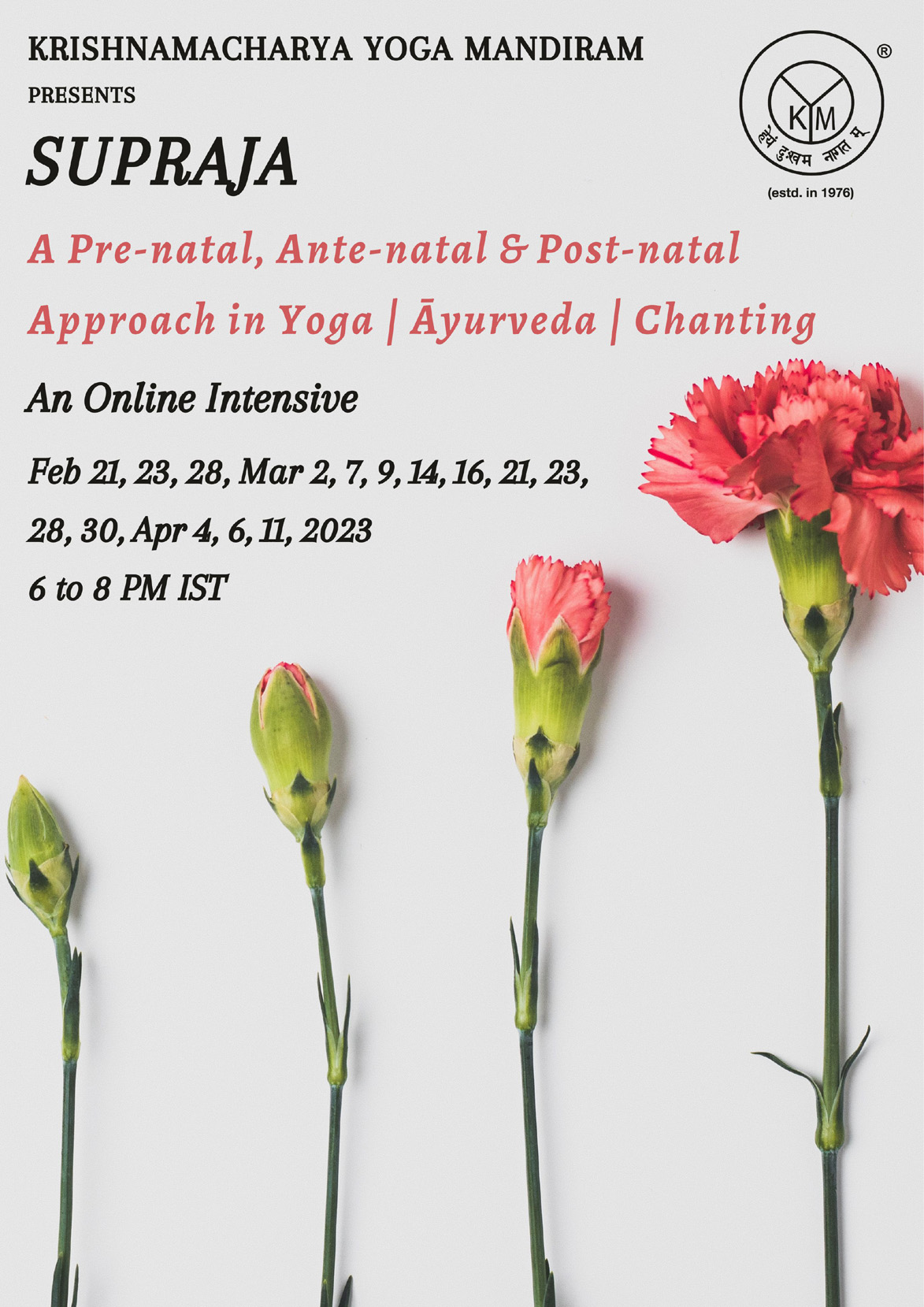 Dates | Feb 21, 23, 28, Mar 2, 7, 9, 14, 16, 21, 23, 28, 30, Apr 4, 6, 11, 2023
Time | 6 to 8 PM Indian Standard Time
Mode | Online
Programme Fee | Rs. 9,000 per participant
Traditional approaches to health promotion and holistic wellness place much emphasis on the conception, birth and nurturing of healthy children, an interlinked process that commences well before a confirmed pregnancy and comes full circle in the child's formative years. The importance of this phase in the life of the mother to be and of the life she births, can never be overstated.
KYM brings to you an online webinar, integrating insights and practices from Yoga and Āyurveda, further supplemented by the integration of meditative practices using select Mantra-s and Stotra-s (Śrī Stuti, Gopāla Viṁśati and Lakṣmī Kavacam).
This webinar will be anchored by Nrithya Jagannathan, Director, KYM Institute of Yoga Studies and Dr. Madhumitha Krishnan, senior Āyurvedic Vaidya, I-AIM, Bengaluru, with invited guest lectures by Dr. Karthiyayani Mahadevan, Senior Medical Practitioner and expert on child development.
The sessions will focus on the scientific and spiritual understanding of embryology and child development, Āyurvedic Garbha Saṁskāra-s, pre-natal, ante-natal and post-natal care, holistic gestational and post-partum support, lactation and the challenges faced by new parents.
This course would be of interest to  parents-to-be, pregnant women and also those who offer prenatal, antenatal and postnatal counselling and support.
Video recordings will be made available for a limited period to all registered participants, the schedule of which will be shared.