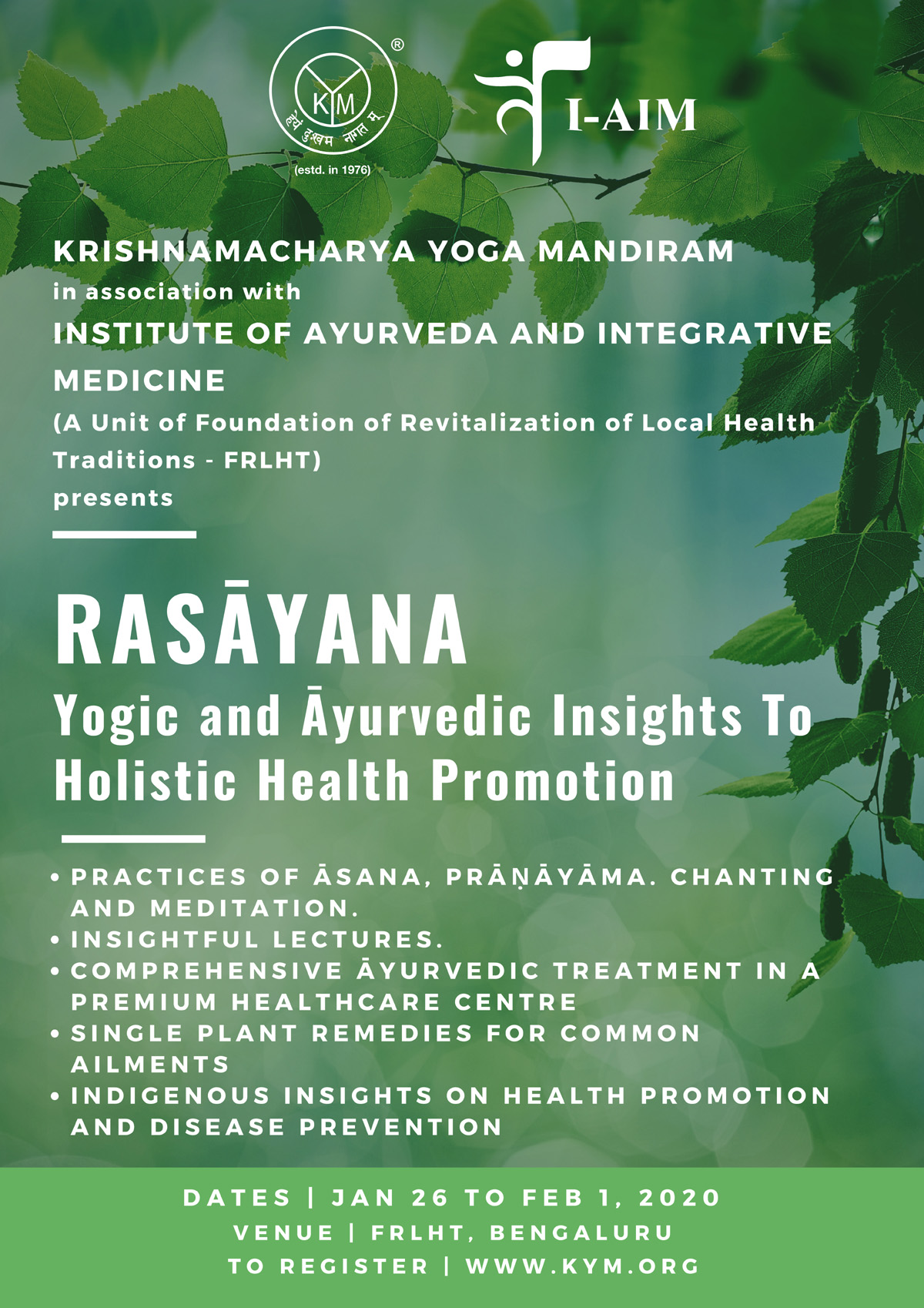 In collaboration with the Institute of Āyurveda and Integrative Medicine (I-AIM)
(A Unit of Foundation for Revitalization of Local Health Traditions (FRLHT), Bengaluru).
Dates: January 26 to February 1, 2020
Fees: INR 10,000 per participant* (This is only the amount payable to KYM. Accommodation and Āyurvedic treatment charges extra payable to FRLHT. Please refer the PDF below) *
At the heart of Āyurvedic wisdom, is Rasāyana, the science of promoting health and longevity through appropriate diet and lifestyle practices. Yoga also offers a number of strategies for facilitating holistic health practices. In the present day, when lifestyle disorders are on the rise and stress induced illnesses are peaking, it is important to take preventive measures to reduce the possibility of low immunity and susceptibility while also taking proactive steps to promote good health at the physical, physiological, cognitive, emotional, spiritual, social and environmental dimensions.
KYM is happy to collaborate with I-AIM (FRLHT) in bringing to you a unique residential retreat that integrates Yoga and Āyurveda, offering not just lecture based learning but also giving individuals a chance to undergo a structured and customised Āyurvedic treatment at one of India's premium Āyurvedic healthcare facilities.
The daily schedule includes:
Lecture on Yogic approaches to health and wellness
Practices of Āsana, Prāṇāyāma, chanting and Dhyānam focusing on health promotion
Lecture on Rasāyana and single plant remedies by expert from FRLHT
Apart from the fixed classroom sessions, all participants will have space to schedule Āyurvedic treatments at the I-AIM facility.
I-AIM is a state of the art Āyurvedic facility that is a unit of the Foundation for Revitalization of Local Health Traditions (FRLHT). Offering comprehensive treatments in fifteen specialities, I-AIM is very well known for its panel of Āyurveda doctors, the diagnostic methods and quality of treatment offered.
*Accommodation will be at the I-AIM, Bengaluru. Please check the PDF document below to decide the accommodation of your preference. Participants are requested to pay the amount directly to FRLHT towards accommodation, food and Āyurvedic treatments at the time of registration of the programme. Kindly note that simple vegetarian food will be served thrice a day.
The programme fee payable to KYM is INR 10,000. The participants should reach the destination by the morning of January 26th. The programme commences post lunch on 26th and ends with lunch on February 1st. Participants may make their return travel arrangements anytime after lunch on February 1st.
The KYM will share the account details of I-AIM with the participants in order to make the payment once the registration for the programme is confirmed.
For further details or any information pertaining to stay or travel, please write to registration@kym.org