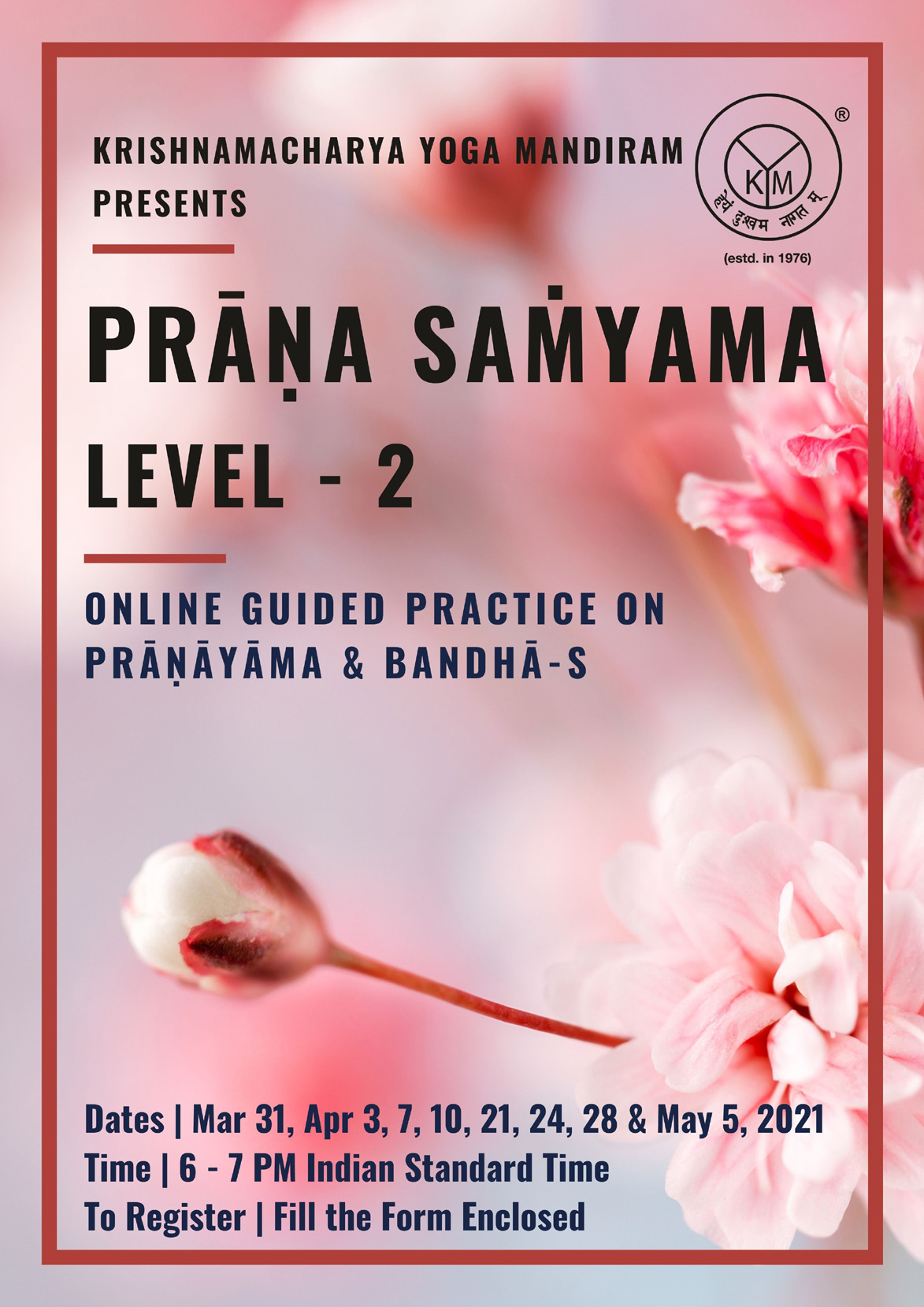 Programme Dates | Mar 31, Apr 3, 7, 10, 21, 24, 28 & May 5, 2021
Time | 6 to 7 PM Indian Standard Time
Programme Fee | Rs. 4,000 per participant
Mode | An online intensive 
Prāṇāyāma as a subtle and yet extremely powerful tool of Yoga is lauded by Yogi-s as the highest form of Tapas, for the manifold benefits it bestows on the practitioner. Merely regulating breath is not Prāṇāyāma. At the highest level of Sādhana, Prāṇāyāma requires the total complete cessation of the breath itself, with Prāṇa being held within the body in an effortless manner. This is the Sādhana of the Yogi-s of yore. At a preliminary level, a number of techniques to direct control of the breath to the throat, mouth and nostril are taught.
When these basic techniques are sufficiently mastered, one can move on to integrate more advanced practices of breath control such as Bandhā and Mantra. Many Yoga texts, including Śrī T Krishnamacharya's Yoga Rahasya affirm that Prāṇāyāma is considered complete only when done along with the Bandhā-s and with the mental recitation of Mantra.
In this course, participants will be led through advanced practices of Prāṇāyāma with the Bandhā-s and will also be introduced to the nuances of Samantraka Prāṇāyāma. While the basic theory behind the use of the Bandhā-s will be discussed, these are designed primarily as guided practice sessions.
The practice will be led by Śrī V Srinivasan, Senior Yoga Therapist & Faculty of KYM Institute of Yoga Studies.
The registered participants will also get limited access to view the class recordings. Schedule of such uploads will be shared later.
The participants are requested to register using the link below before proceeding with the payment for the programme.