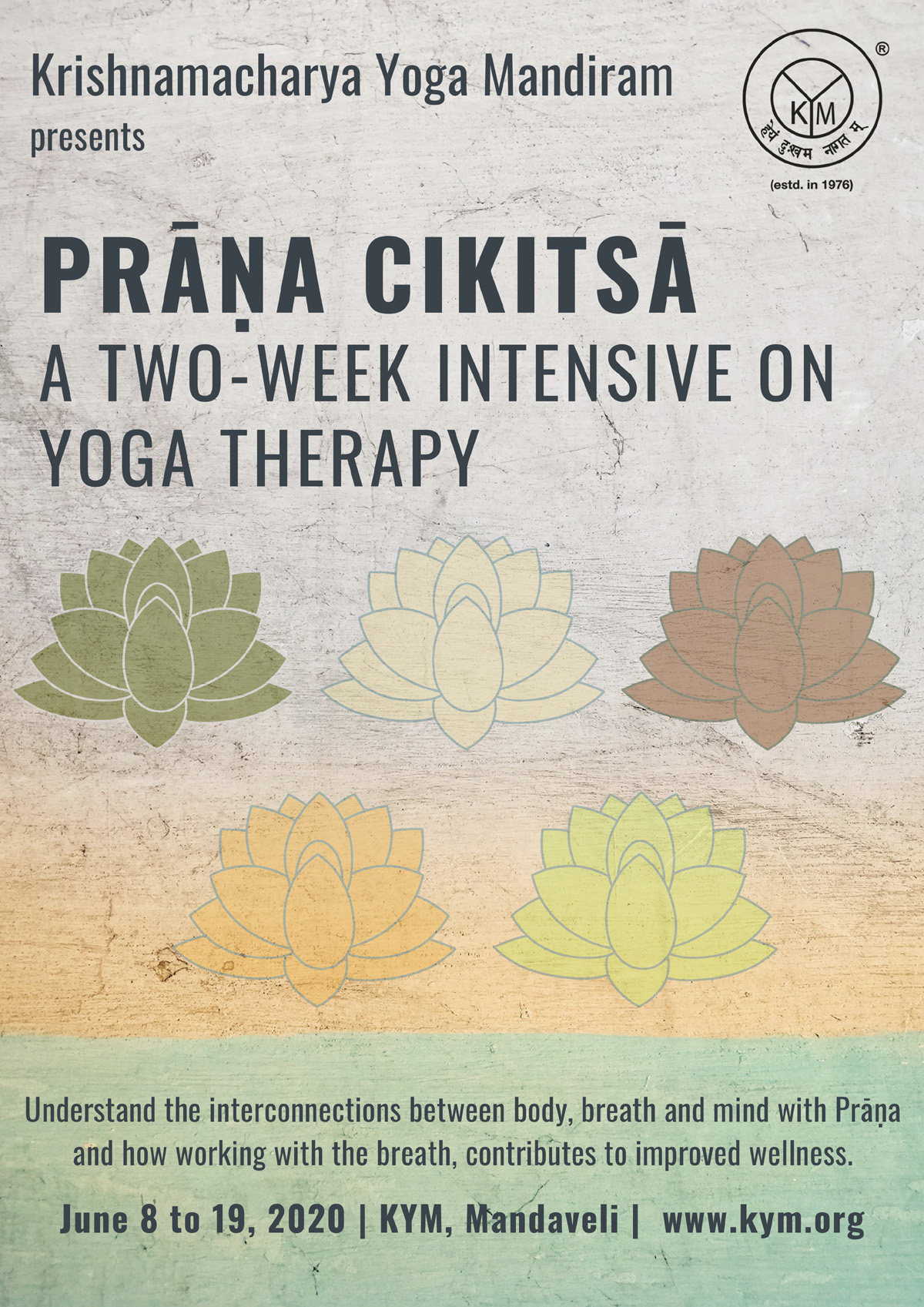 Dates: June 8 to 19, 2020
Fees: USD 650
One of the most significant contributions of Śrī T Krishnamacharya and Śrī Desikachar to Yoga, is their development of a unique methodology of Yoga based interventions for health and healing. The KYM, founded in 1976 by Śrī Desikachar is today recognised worldwide as one of the leading centers for Yoga therapy. With over 15,000 one-on-one Yoga therapy classes given each year, the KYM also has a vast repository of data on the efficacy of Yoga interventions for various conditions for different individuals. At the heart of our approach to Yoga therapy is an understanding of how Prāṇa is influenced by numerous internal and external factors and how the tools of Yoga help in improving the flow of Prāṇa, thereby promoting healing and wellness. While, a variety of tools are used, the thread that connects all these strategies is the breath.
This two-week Yoga therapy intensive helps participants understand the interconnections between body, breath and mind with Prāṇa, and how working with the breath, contributes to improved wellness, energy, sleep and general quality of life.
The daily schedule includes:
Āsana practice
Lecture 1- the KYM approach to Yoga-cikitsā
Lecture 2 – The healing breath – insights about Prāṇa from Vedic and Yogic literature
Prāṇāyāma practice
Healing chants and their applications
Case studies – insights from the consultations done by Śrī Desikachar and other senior consultants of the KYM
Meditative practice
Classes will be held Monday through Friday with weekends off. In case of any Government declared holiday during the course, compensatory classes will be held on a Saturday.
This is a non-residential programme. Participants have to make their own arrangements for accommodation and food. A simple south Indian vegetarian breakfast will be served after Āsana practice every morning along with tea and light snacks in the afternoon break. Please write to us for a list of student-recommended accommodation options in the vicinity of KYM.