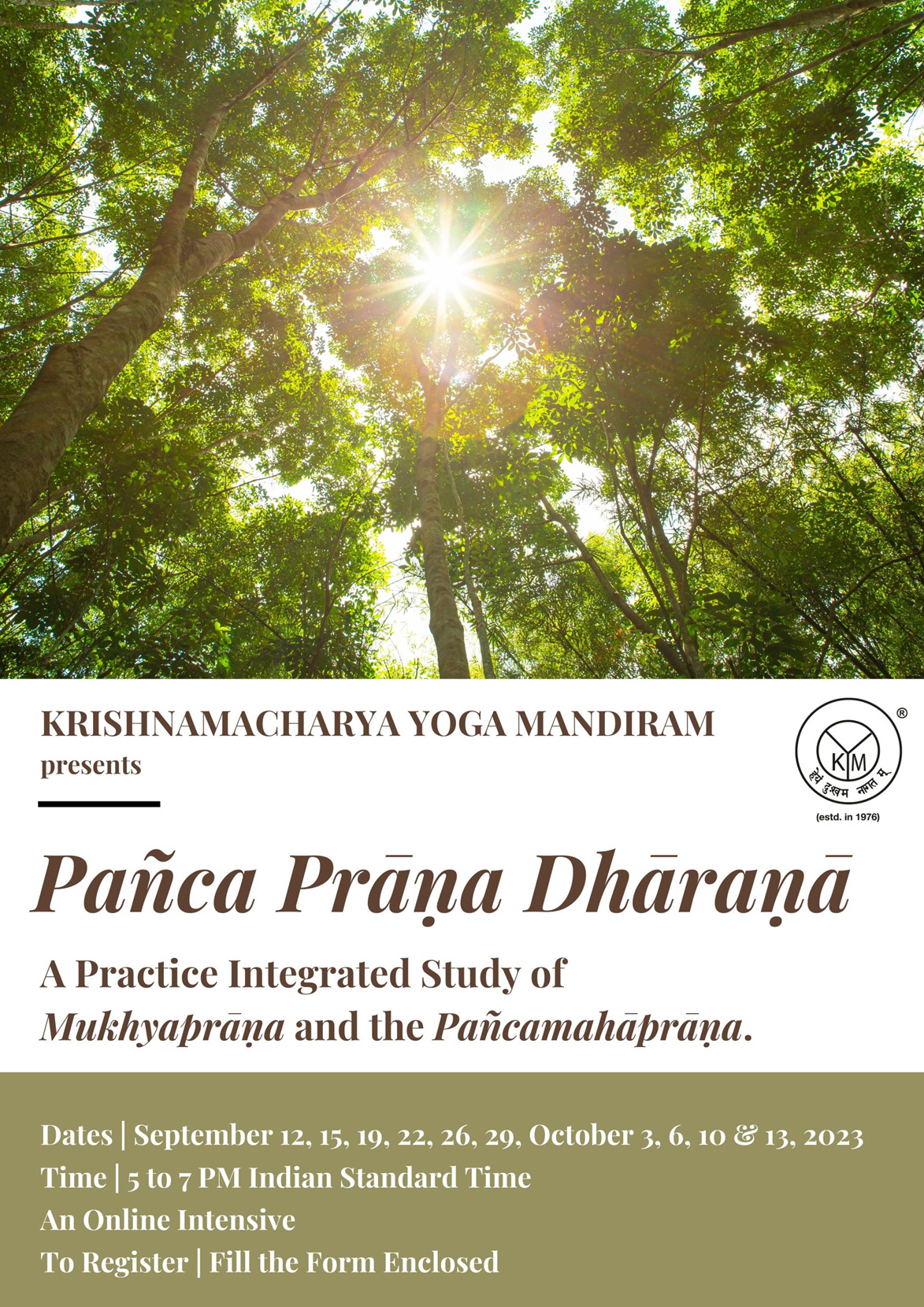 Dates | September 12, 15, 19, 22, 26, 29, October 3, 6, 10 & 13, 2023
Time | 5 to 7 PM Indian Standard Time
Mode | An Online Intensive
Fee | INR 9,500 per participant
 Following the enthusiastic participation in our previous two webinar series, Pañcabhūta Dhāraṇā and Pañca Śakti Dhāraṇā, KYM is happy to bring to you the next in the series, Pañca Prāṇa Dhāraṇā.
 At the heart of health, wellness, vitality and longevity lies an understanding of Mukhyaprāṇa and its functional aspects of Apāna, Vyāna, Udāna and Samāna.
The importance of Prāṇa can never be understated and there is ample literature that demonstrates the remarkable interconnectedness of Prāṇa, Śarīra, Citta, Indriya and Ātma. While Prāṇa in and of itself is the subtlest essence of cosmic energy that pervades our world, the vehicle that makes Prāṇa circulate to be flowing unimpeded through our body is the breath. Yoga, specifically, Prāṇāyāma is one of the most effective methods to harnesses, regulate and enhance the flow of Prāṇa, making Prāṇāyāma quite literally the precious key that unlocks the doors to sustained health and wellness.
This 20-hour webinar will cover in detail the philosophical aspects that underpin the relevance of Prāṇā, textual references to Prāṇa and Prāṇāyāma, an overview of the Pañcamaya Śarīra that is powered by the Prāṇāyāma, Pañcamahāprāṇa and Pañcaupaprāṇa, weaving this theoretical foundation with guided practices of Prāṇāyāma using classical techniques of Prāṇāyāma along with Mantra, Mudrā, Nyāsam, Bandha and Bhāvana.
This webinar will be anchored by Ms. Nrithya Jagannathan, Director, KYM Institute of Yoga Studies and Śrī V Srinivasan, Executive Director, KYM.
Video recordings will be made available for a limited period to all registered participants, the schedule of which will be shared.