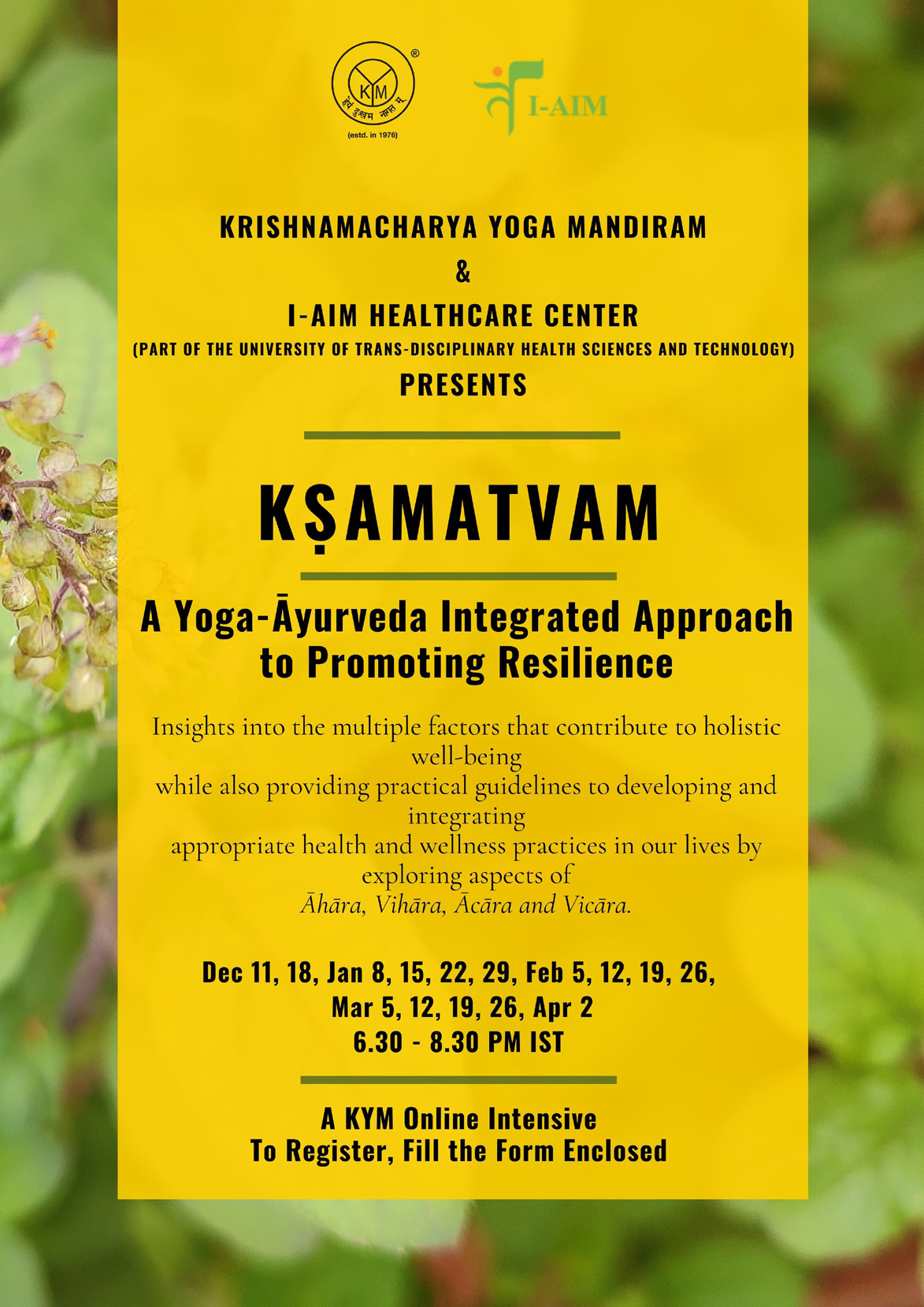 Dates | Dec 11, 18, Jan 8, 15, 22, 29, Feb 5, 12, 19, 26, Mar 5, 12, 19, 26, Apr 2
Time | 6.30 – 8.30 PM IST
Programme Fee | Rs. 14,000 per participant
Increasingly in the Covid-19 world scenario, the development of holistic wellness and immunity building has taken centre stage in most debates and narratives. Yoga and Āyurveda both offer us invaluable insights and practical solutions to empowering from within, by showing us how to take ownership of one's own health, wellness and stability. The maintenance of health is not merely the absence of illness but also encompasses how an individual copes with a disharmony or imbalance at any dimension of the system. While treatment of diseases are aspects of both Yoga and Ayurveda, the core strength of both disciplines lies more in the realm of what they offer by way of a pre-emptive approach to health promotion. Both Yoga and Āyurveda approach health, wellness and healing from multiple perspectives, addressing not just manifestation of symptoms of illness but taking a proactive approach to prevent illness while simultaneously promoting wellness.
This collaborative study module brought to you by the Krishnamacharya Yoga Mandiram and the Institute of Ayurveda and Integrative Medicine (I-AIM), Bengaluru aims at offering valuable insights into the multiple factors that contribute to holistic wellbeing while also providing practical guidelines to developing and integrating appropriate health and wellness practices in our lives by exploring aspects of Āhāra, Vihāra, Ācāra and Vicāra.
This 30-hour programme will include inputs on Āyurveda covering fundamentals of Prakṛti and Vikṛti Dinacarya, Ṛtucarya, principles of diet and nutrition and essential health promotive practices. There will also be guided practices of Āsana, Prāṇāyāma and Dhyānafocusing on improving general flexibility and strength, enhancing stamina, improving energy, enhancing sleep quality and enabling stress reduction and relaxation.