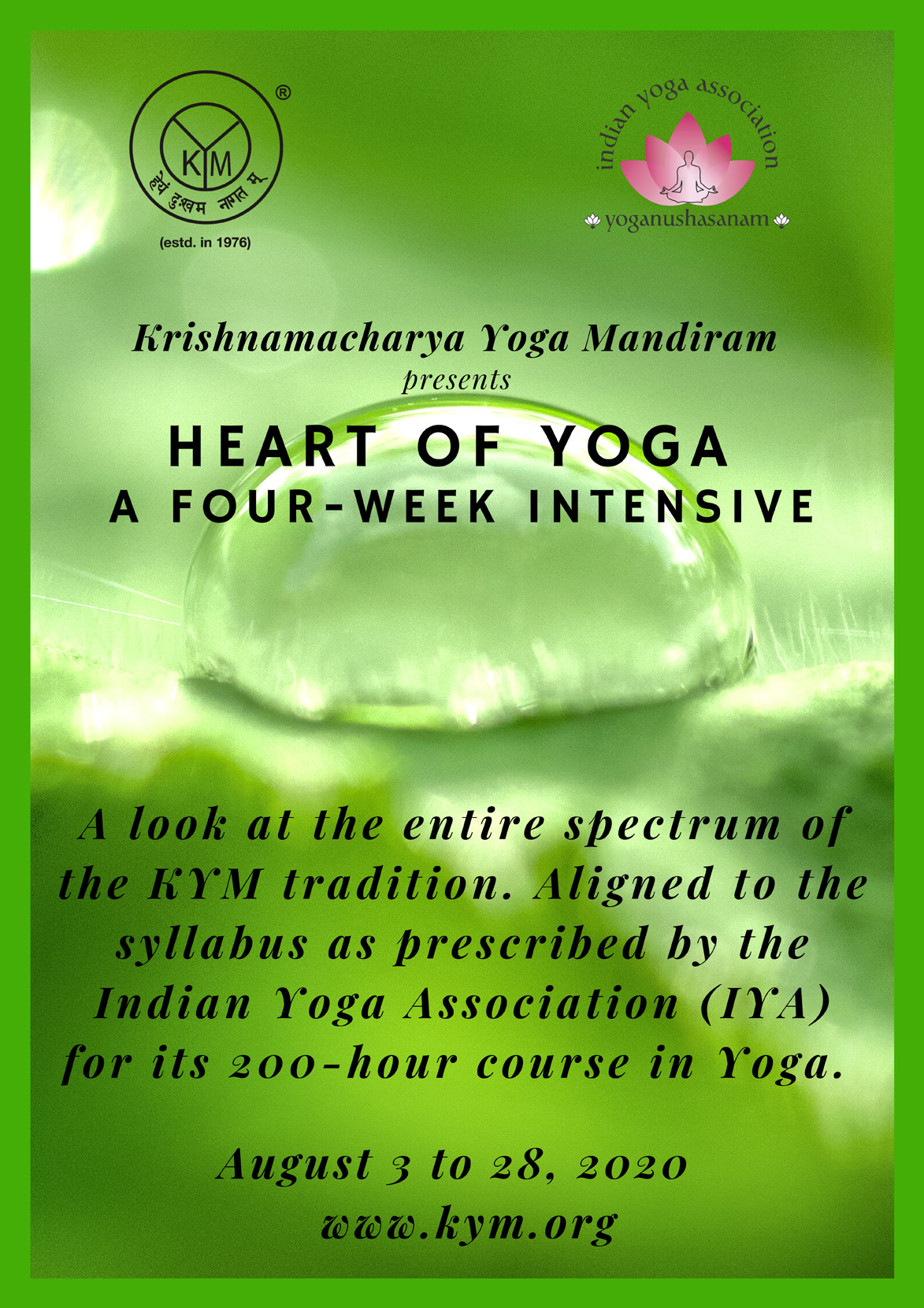 Dates: August 3 to 28, 2020
Fees: USD 1200
Certification Fee: Payable directly to Indian Yoga Association (IYA) USD 50 for international students and Rs. 1500 for Indians.
The Heart of Yoga is one of KYM's flagship programmes that has been offered continuously for over 22 years. Conceived as a four-week intensive, The Heart of Yoga takes participants through an immersive experience of the fundamental teachings of Śrī T Krishnamacharya and Śrī TKV Desikachar, integrating philosophy, practice and application in a seamless format. A very popular programme that offers participants a look at the entire spectrum of the KYM tradition, this programme is now also aligned to the syllabus prescribed by the Indian Yoga Association (IYA) for its 200-hour certificate course in Yoga.
Subjects include: An overview of the history and evolution of Yoga, Yoga philosophy, theory of Āsana, Prāṇāyāma and Dhyānam, practices of Āsana, Prāṇāyāma and Dhyānam, application of the tools of Yoga and also chanting. Guest lectures on select aspects of anatomy and physiology, Indian culture, Āyurveda and Psychology will be offered as well. Following an objective evaluation at the end of the programme, participants will be accredited as professional members of Indian Yoga Association and will receive a certificate with the IYA 200-hour certificate course insignia.
Classes will begin at 7 AM and will proceed till 12 noon, with short breaks between each session. After a 2-hour lunch break, classes will resume at 3 PM and go on till 5 PM. On select days, guest lectures will be held from 5 to 6 PM. Classes will be held Monday through Friday with weekends off. In case of any Government declared holiday during the course, compensatory classes will be held on a Saturday.
This is a non-residential programme. Participants have to make their own arrangements for accommodation and food. A simple south Indian vegetarian breakfast will be served after Āsana practice every morning along with tea and light snacks in the afternoon break. Please write to us for a list of student-recommended accommodation options in the vicinity of KYM.