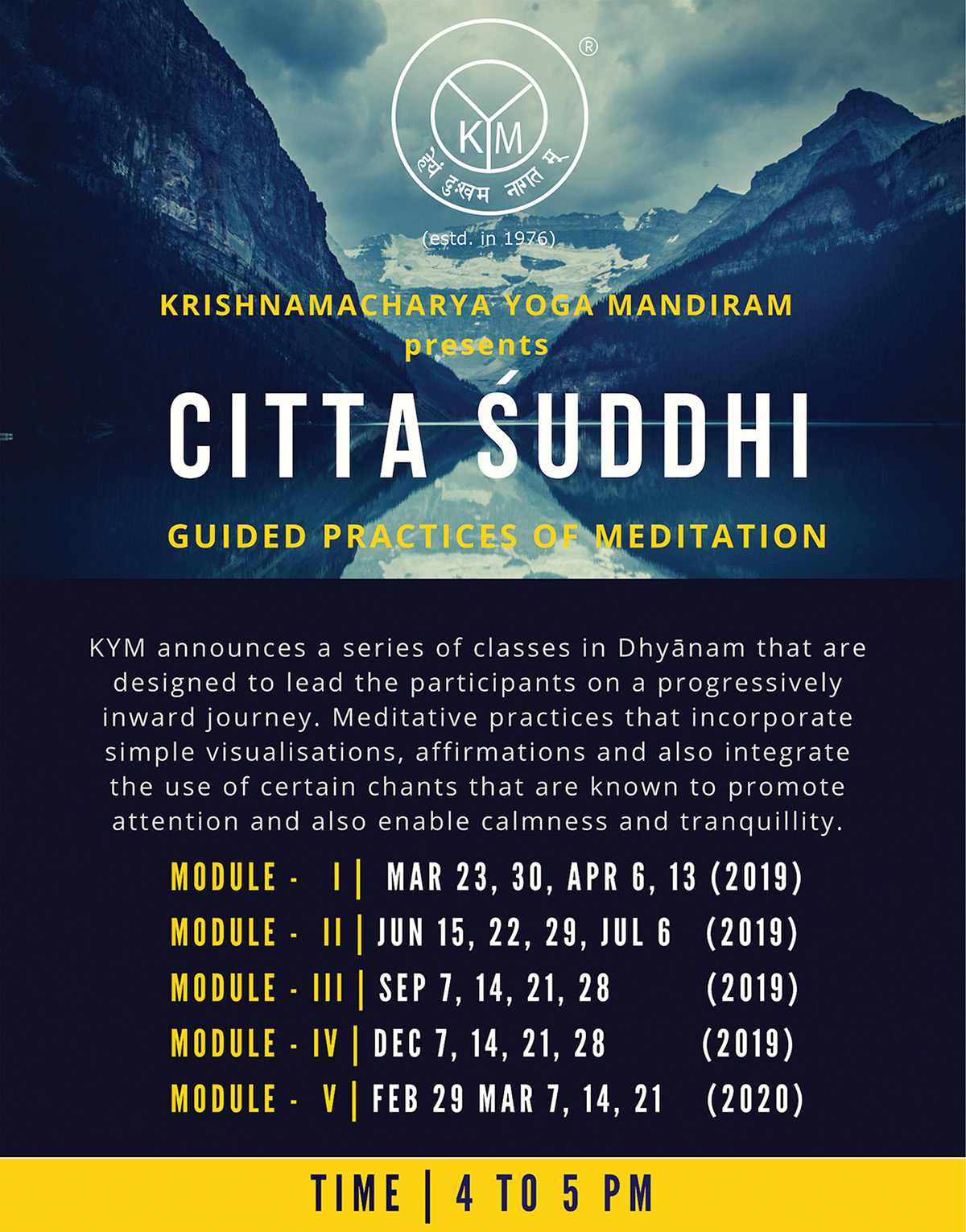 Time – 4:00 PM – 5:00 PM
Programme Fee – INR 1500 per module. Participants also have an option to register for all the five modules by paying INR 6250.
One of the most well-known synonyms of the term, "Yoga" is "Dhyānam," or meditation. While meditation culminating in a state of deep absorption, and hence, complete mastery over the object one meditates upon is the pinnacle of Patañjali's Aṣtanga-yoga, it is necessary to first train the mind to focus on a chosen object and sustain that focus for a certain period of time without distraction. Meditative practices that incorporate simple visualisations, affirmations and also integrate the use of certain chants are known to promote attention and also enable calmness and tranquillity. These meditative experiences also give us the strength to cope with modern-day stress and find viable solutions to our problems through practices of inward oriented reflective. KYM announces a series of master classes in Dhyānam that are designed to lead the participants on a progressively inward journey.
Module – I | Dates: Mar 23, 30, Apr 6, 13 (2019) | Time: 4:00 PM – 5:00 PM
Understanding and working with body, breath and mind and also their relationship to nature
Module – II | Dates: Jun 15, 22, 29, Jul 6 (2019) | Time: 4:00 PM – 5:00 PM
Panca prana, concept of Pranayama as a yajna, pranapratyahara (as presented in Yoga Yajnavalkya Samhita)
Module – III | Dates: Sep 7, 14, 21, 28 (2019) | Time: 4:00 PM – 5:00 PM
Nadi, cakra, agni, removal of mala
Module – IV | Dates: Dec 7, 14, 21, 28 (2019) | Time: 4:00 PM – 5:00 PM
Gayatri Dhyānam (using the sapta vyahrti sasira gayatari), practices using the sandhyavandanam model of meditation
Module – V | Dates: Feb 29, Mar 7, 14, 21 (2020) | Time: 4:00 PM – 5:00 PM
Models of meditation based on Narayana Suktam, Santi mantra-s, Taittiriya Upanisad