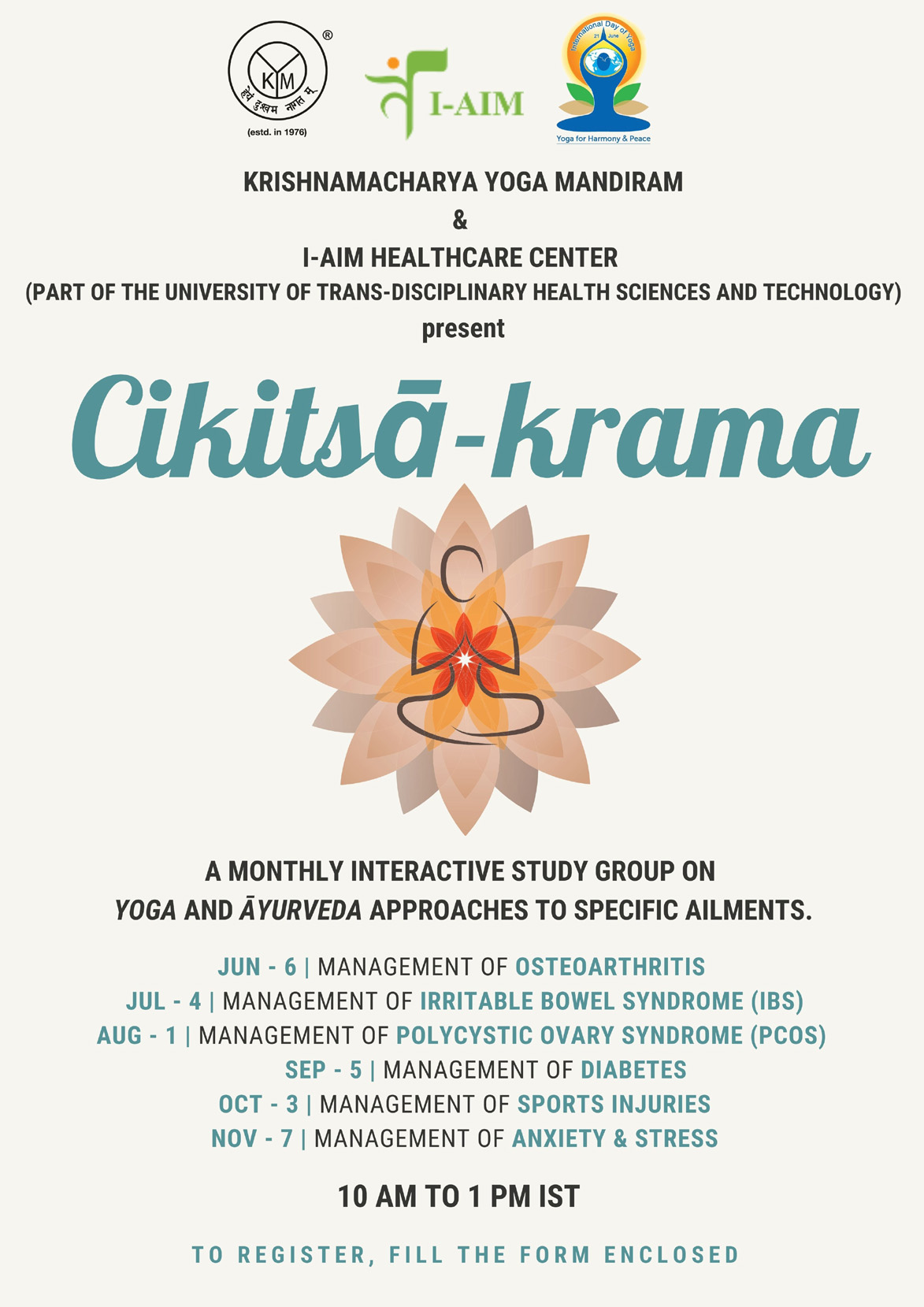 Dates | Jun 6, Jul 4, Aug 1, Sep 5, Oct 3, Nov 7, 2021
Time | 10 AM to 1 PM Indian Standard Time
Programme Fee | Rs. 1,500 for one session & Rs. 7,500 for six sessions
Mode | Online
At the crux of KYM's work in Yoga, since its inception in 1976 has been a very structured and yet highly individual-centric approach to helping individuals manage and in some cases, cure acute and chronic ailments they experience. Over and above offering a cure, Yoga therapy paves a pathway to acceptance and healing which is significant in contributing to overall perception of quality of life of an individual.
The KYM is happy to partner with senior Vaidya-s from the Institute for Āyurveda and Integrative Medicine (I-AIM), Bengaluru in bringing to you a monthly interactive study group on Yoga and Āyurveda approaches to specific ailments.
Each session will present a brief overview of the pathology associated with a specific condition, the Āyurvedic approach to management of that condition, and the corresponding Yoga approach using select case studies for discussion. Please note that since Cikitsā from both the Āyurveda and Yoga perspective is highly individualised, there will be no prescriptive directives or disease-based protocols given.
These sessions are designed as a support group for Yoga teachers and Yoga therapists who work extensively with individuals and groups, so that they can get a deeper understanding of how to approach individuals who may have certain specific health issues, by offering broad guidelines so that a Yoga teacher/therapist does not inadvertently harm or misguide a student.
This webinar will be held on the first Sunday of every month from 10 am to 1 pm IST. The registered participants will also get limited access to view the class recordings. Schedule of such uploads will be shared later.
Session wise discussion will cover:
June – 6 | Management of Osteoarthritis
July – 4 | Management of Irritable Bowel Syndrome (IBS)
August – 1 | Management of Polycystic Ovary Syndrome (PCOS)
September – 5 | Management of Diabetes
October – 3 | Management of Sports Injuries
November – 7 | Management of Anxiety & Stress