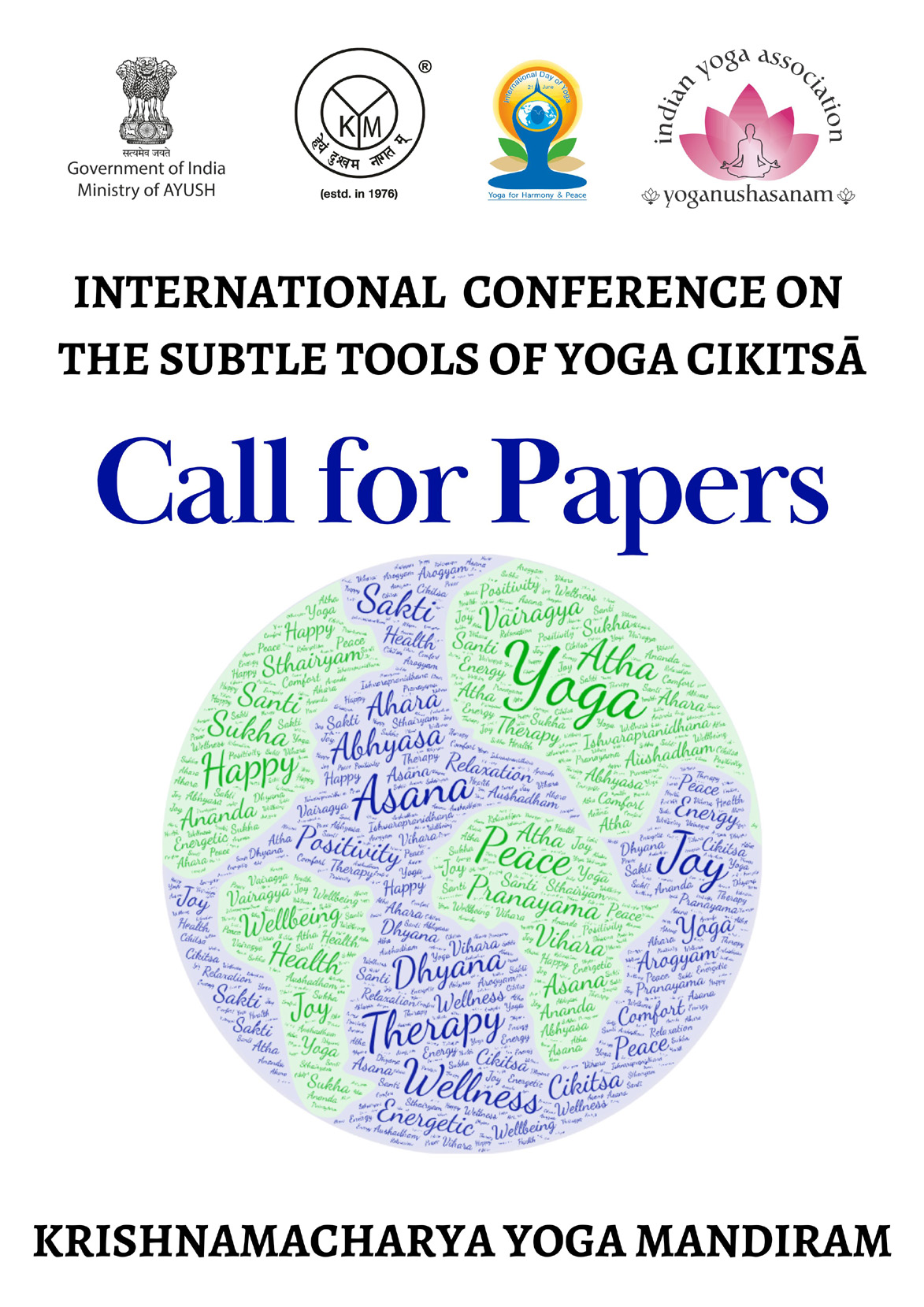 The KYM invites abstracts for paper presentation as part of the International Conference on the Subtle Tools of Yoga Cikitsā.
Authors of the selected abstracts will be given a chance to present their paper at the pre-conference event to be held on Friday, March 24, 2023 at the KYM premises. Paper presentations will be in person for the residents of Chennai and online for those residing outside Chennai. All authors will be issued a Certificate of Participation by the Krishnamacharya Yoga Mandiram.
The KYM will bring out an ISBN publication of the conference proceedings and the five best papers will be published in the same.
Theme For Abstract Submission
The abstract should focus on any one of the theme below:
Concepts of Cikitsā in Yoga literature
Applied research/thematic research on application of Prāṇāyāma in the management of disease conditions:

Role of Prāṇa in facilitating wellness
Use of sound as a healing modality

Stand-alone case studies on application of subtle tools of Yoga (Prāṇāyāma, Mantra and Bhāvana) in health and wellness
Instructions for Sending the Abstracts
Research paper from the themes mentioned above, written in English, reflecting original thoughts and systematic research activities.
The abstract should not have been previously published in any other forum/publication.
Structured abstract (template below) for 300 words in .docx format.
Registration and a payment of Rs. 600 is mandatory for abstract submission. Registered delegates can also attend the conference on March 25th at no additional payment. For delegates residing outside Chennai, access to view the videos of the conference will be provided after the conference.
The abstracts received would be scrutinized by the jury.
Refer the PDF below for submission guidelines.
Last date for submission of abstract | March 20, 2023
Instructions for Top 30 Selected Abstracts
The top 30 abstracts will be selected for oral presentation (at the KYM premises for residents of Chennai and online for those residing outside Chennai). Schedule for the same will be decided by KYM.
Selected abstracts will be intimated via email to the respective authors at the latest by the March 20, 2023.
All delegates have to make their own arrangements for travel and accommodation.
Simple vegetarian lunch will be served at the KYM premises for delegates.
Certification will be issued to the top five papers and others will receive an e-copy for their participation.                                                                   
Note: If you are submitting an abstract, you are eligible to attend both the pre-conference paper presentation (on 24th) and the conference (on 25th). Payment details will be mailed to your registered mail ID)
Submission Guidelines for Paper Presentation