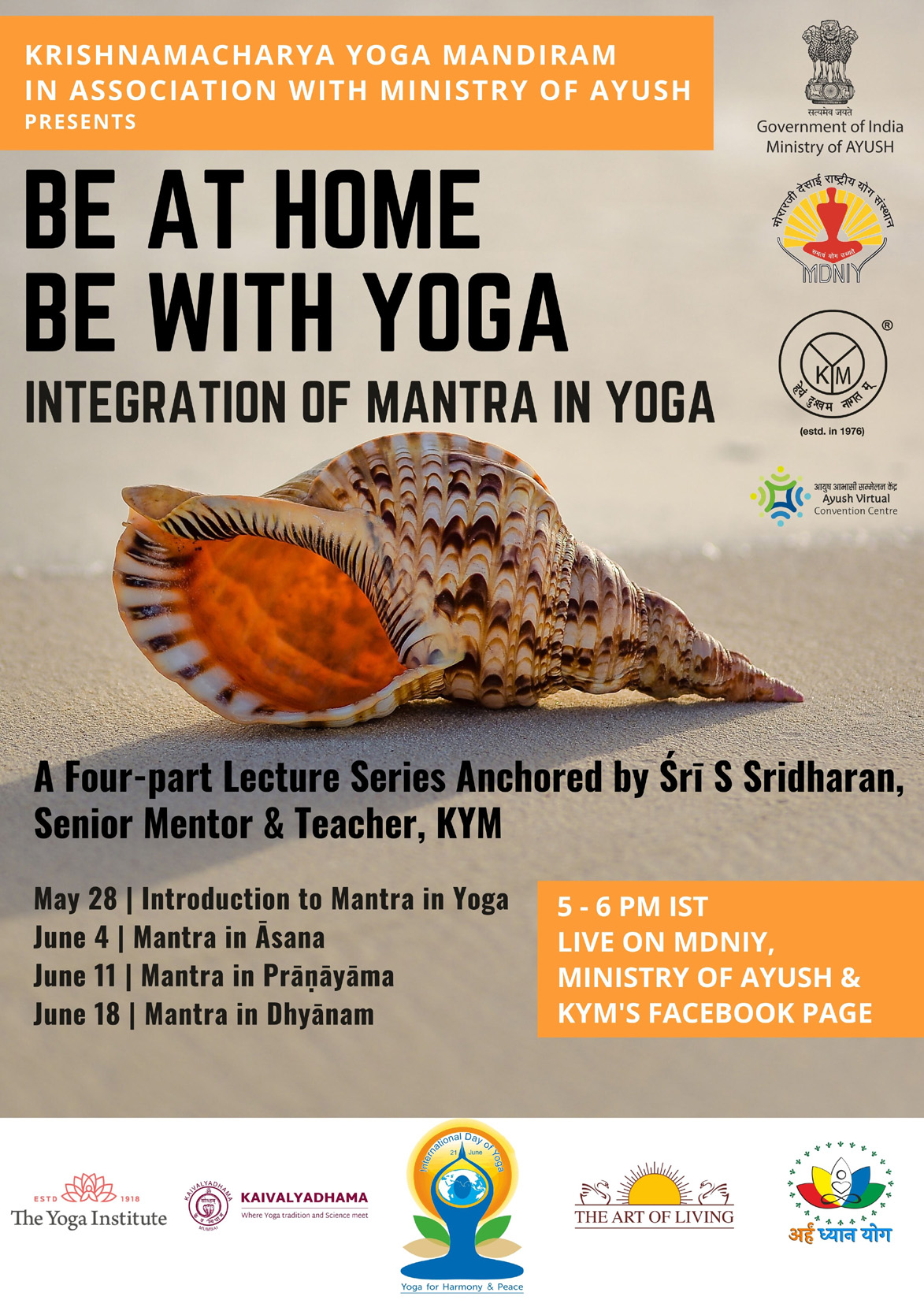 While Āsana, Prāṇāyāma and Dhyānam are the well-known tools of Yoga, Śrī T Krishnamacharya and Śrī TKV Desikachar also beautifully integrated Mantra-s and other chants into the practice of Yoga. While Vedic Mantra-s are innately powerful, the selection of chants used can also be done keeping in mind the specific preferences of the practitioner. The use of Mantra in Yoga serves as a very effective means, not only of lengthening the breath but also enhancing attention. Further, Mantra integrated Yoga practices can also contribute to inner strength and resilience.
Śrī S Sridharan, Senior Mentor and Teacher, Krishnamacharya Yoga Mandiram, will be a presenting a  series of four lectures on the integration of Mantra-s within the practice of Yoga as part of the ongoing webinars organised by the Ministry of AYUSH.
May 28, 2021 | Introduction to Mantra in Yoga
June 4, 2021 | Mantra in Āsana
June 11, 2021 | Mantra in Prāṇāyāma
June 18, 2021 | Mantra in Dhyānam
Time | 5 PM to 6 PM Indian Standard Time
These sessions will be streamed live on the Facebook handles of:
Ministry of AYUSH | https://www.facebook.com/moayush
MDNIY | https://www.facebook.com/mdniyayush
KYM | https://www.facebook.com/watch/krishnamacharyayogamandiram/
About International Day of Yoga Celebrations 2021 
Ministry of AYUSH is organising various activities in the run up to the International Day of Yoga, 2021. One among these is a series of five webinars that the Ministry is organising under the broad theme of "Be with Yoga, Be at Home." It is being organised in collaboration with five renowned organisations of the country who will present one webinar each on a particular topic of importance in the current scenario.
The KYM is happy to associate with the other leading Yoga institutes of the country namely, The Yoga Institute, Kaivalyadhama Yoga Institute, Art of Living and Arham Dhyan Yog.
The weekly schedule for the next 4-weeks:
Mondays | Art of Living
Tuesdays | The Yoga Institute
Wednesdays | Kaivalyadhama
Thursdays | Om Arham Social Welfare Foundation
Fridays | Krishnamacharya Yoga Mandiram