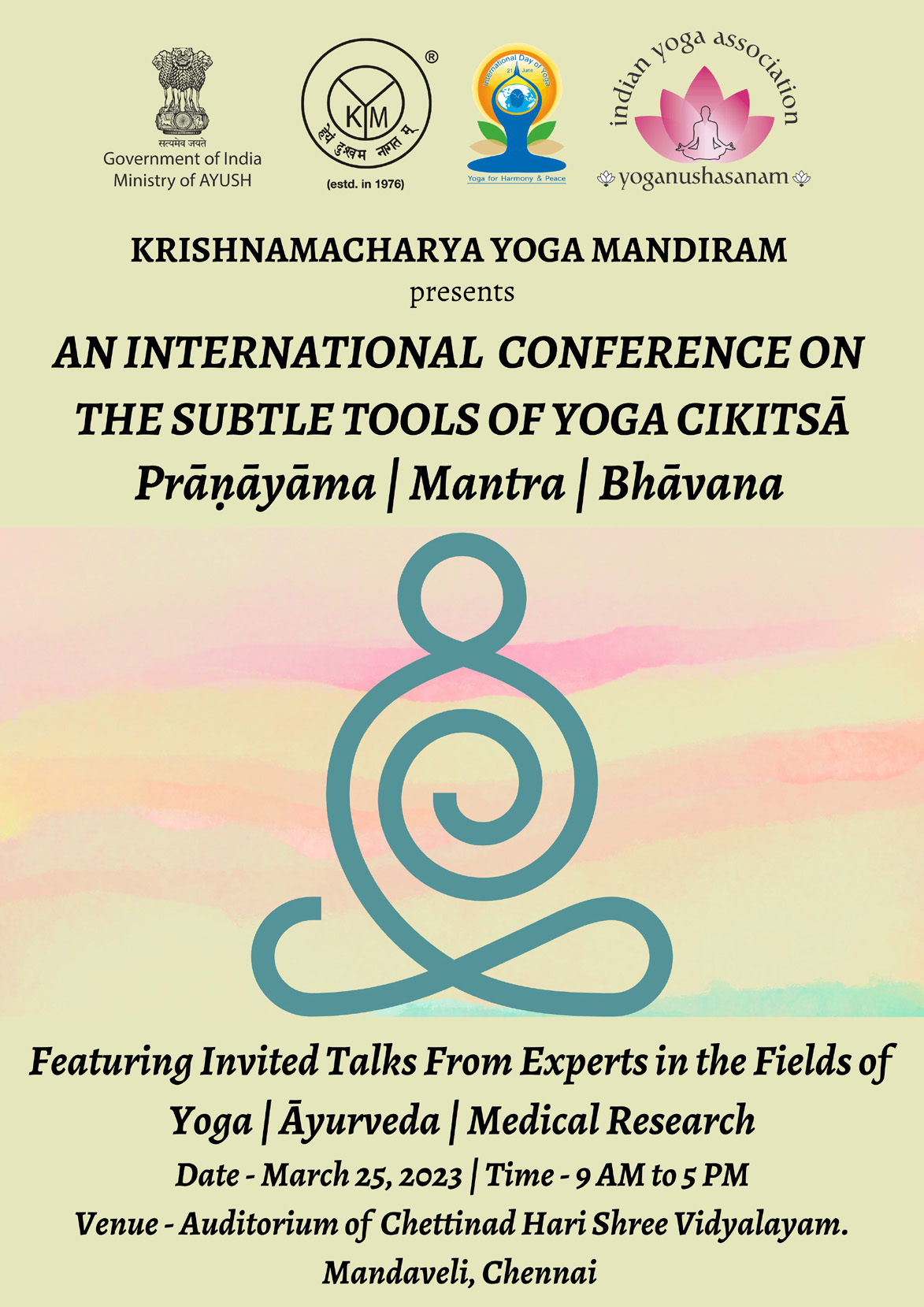 Date of Conference | March 25, 2023
Time | 9 AM to 5 PM Indian Standard Time
Venue | Auditorium of Chettinad Hari Shree Vidyalayam, Mandaveli, Chennai
Conference Fee | Rs. 500 per participant (For Students – Rs. 300 per participant; Student ID card to be produced at the time of entry to the conference)
Objective of the Conference
It is well known that Yoga has multiple benefits and it promotes holistic health and well-being. Yoga-cikitsā or the therapeutic use of Yoga based interventions is also gaining popularity. In this context, it is important to reiterate the need for an individual centric application of Yoga tools based on a thorough understanding of every care seeker's physical, physiological and psychological needs and capabilities. However, in terms of application, Āsana is the tool most used with little to inadequate use of the subtler but even more potent tools that Yoga has to offer such as Prāṇāyāma, Mantra and Bhāvana.
The KYM is world renowned as a centre for Yoga therapy and study of care-seekers' data indicates that  the subtle tools of Yoga are used in over 70% of cases with significant outcomes. The objective of this conference is to explore and provide a deeper awareness of the potential of Prāṇāyāma, Mantra and Bhāvana in a therapeutic context.
Content of the Conference
This conference features invited talks from experts in the field of Yoga, Āyurveda and Sound therapy, specifically focusing on the science behind the use of Prāṇāyāma, Mantra and Bhāvana in the context of health promotion and management of various illnesses. Case studies from KYM's vast collection of care-seeker records will also be presented. Also included is a guided practice integrating Āsana, Prāṇāyāma, Mantra and Bhāvana and a panel discussion on how the subtle tools of Yoga Cikitsā can be intelligently and appropriately utilised.
Who Will Benefit From This Conference?
Yoga Teachers, Yoga Therapists, Practitioners of Yoga who wish to understand deeper dimensions of Yoga, Yoga enthusiasts, those working in the domain of healing, health promotion, counselling and other health care providers.
Other Important Points

The final conference schedule will be announced shortly.
Lunch will be provided at the venue for all registered delegates.
Pre-conference Paper Presentation | The KYM is also inviting abstracts from researchers and Yoga therapists working in the domain of healthcare who have used Prāṇāyāma, Mantra and Bhāvana with demonstrated efficacy. The pre-conference paper presentations will be held at the KYM premises on Friday, 24th March 2023 from 9 am to 5 pm. Registration for this has to be done separately. Refer the 'Call for Papers' programme in the link https://www.kym.org/yoga-programmes-and-workshops/.